70th Anniversary Events Weekend
October 13, 2023
-
October 15, 2023
Camp Alonim
1101 Peppertree Lane
Brandeis, CA 93064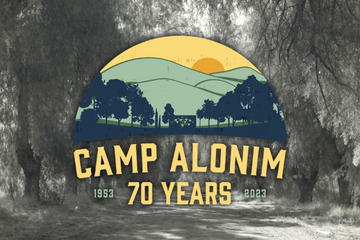 We are thrilled to be hosting a weekend of events at Camp Alonim in honor of our 70th Anniversary year!
Please save the dates below to join us for a trip down Peppertree Lane:
Friday, October 13, 2023: 70th Anniversary Community Shabbat. Join the Alonim Community on Peppertree Lane for a traditional Alonim Shabbat evening of praying, eating, singing, and dancing!
Saturday, October 14, 2023: Celebratory Evening at H.O.B. Join us for a 21 and over event at the House of the Book for a celebration of 70 Years of Camp Alonim!
Sunday, October 15, 2023: Family Field Day. Bring out the whole family on Sunday for an afternoon filled with camp activities like Horseback Riding, Archery, Ropes Course Climbing, Art, Music, Dance, Hiking, and more!
We would love for you to join us for the entire weekend of events. Please note that each of the three weekend events MUST be registered for separately. Please register by clicking the button above or using the forms in the tabs below.
Click through the tabs below to learn more about each event and register:
We can't wait to welcome you back to your "home away from home"!