At Camp Alonim meals, campers sit by bunk with their bunkmates and counselors, creating a wonderful opportunity for campers and counselors to come together and reflect on their day. Our entire camp eats together as one community and our meals are served family style.
Walk into our dining hall during any meal and you will hear a joyful cacophony of singing and cheering. Meals are also typically when siblings and friends in different divisions have an opportunity to meet up and share with each other a little bit about their day.
Each meal is opened and closed by the Jewish blessings for before and after a meal, hamotzi and birkat hamazon. Don't worry if you don't know them, your counselors and Head Counselors will teach you on the very first day of camp.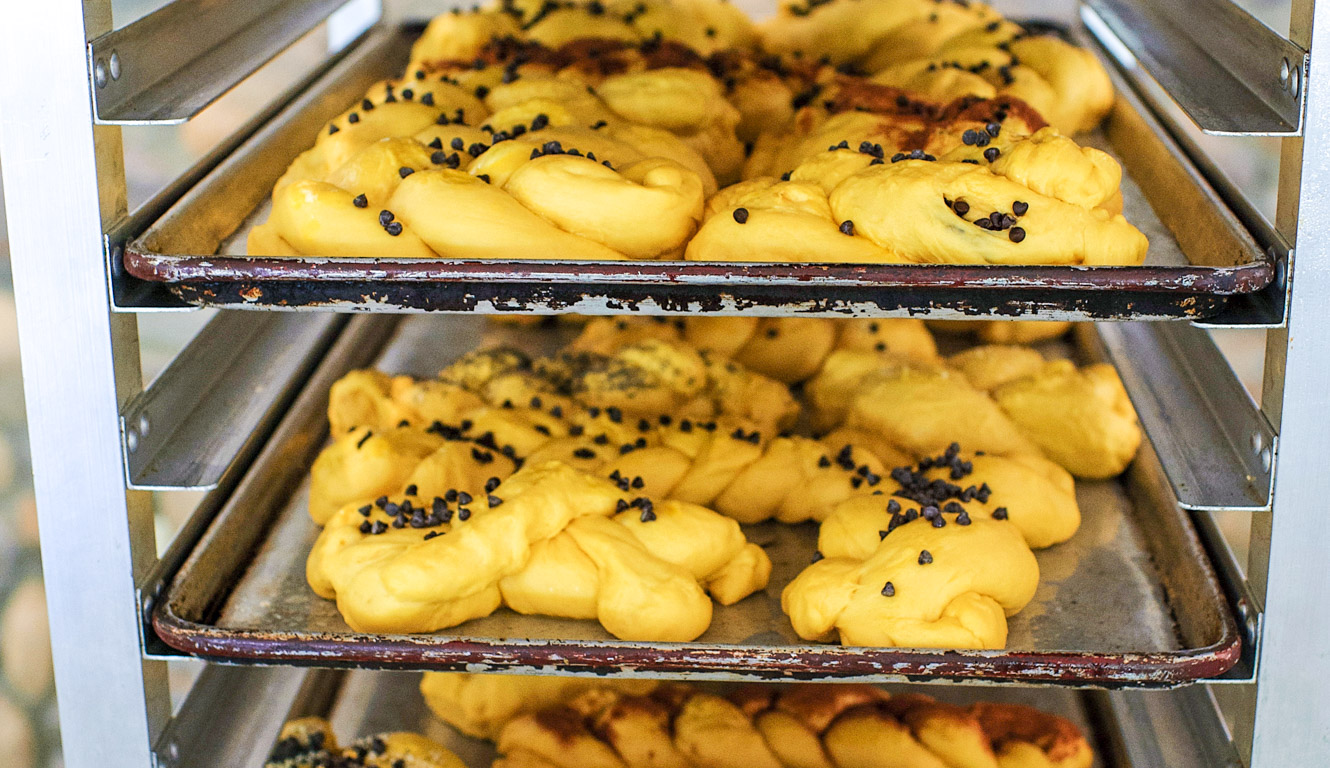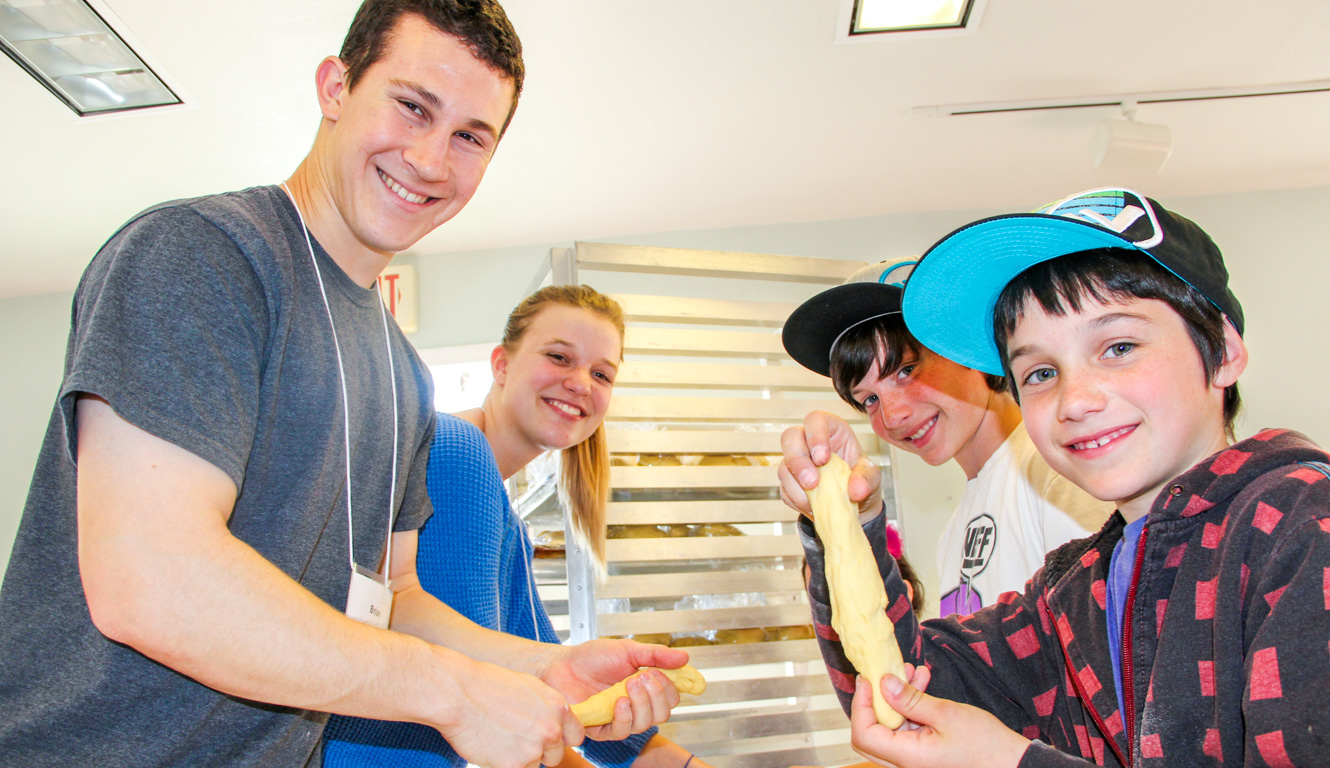 Our Food
Campers, staff, and guests tell us our food is excellent. Our staff work hard to create nutritious menus that are geared towards the appetites and interests of Alonimers. Camp Alonim operates a kosher kitchen, that is under strict kashrut supervision, and all of our food is hechschered (certified as kosher).
In addition to our main meal at breakfast, campers can choose from a variety of cold cereals, fresh fruit, yogurt, cottage cheese, hardboiled eggs, sun butter, jelly and bread. Lunch and dinner are always accompanied by a fresh salad bar, sun butter, jelly, bread, tuna, and often pasta.
Some typical meals for breakfast include scrambled eggs with hash browns, cinnamon rolls with oatmeal and raisins, bagels and cream cheese, and breakfast tacos. For lunch, campers love our BBQ beef sandwiches, schnitzel with hummus and French fries, and quesadillas with chips and salsa. Dinner can be anything from tortellini with roasted vegetables, to sloppy joes with corn, to chicken fajitas with sautéed vegetables, or macaroni and cheese. At Camp Alonim we strive to serve a variety of kid friendly meals where there is really something for everyone!
At Camp Alonim, the health and safety of your child is our number one priority. We are able to accommodate certain food allergies and dietary restrictions. Please notify us via your camper forms if your child has special dietary needs. Because we are under strict kashrut supervision, we cannot accept food from outside of camp. However, if given notice, we can provide certain items for your child under certain circumstances (e.g., medical reasons.) Please contact the office well in advance of the summer if you need to arrange that service. With a large and growing population eating gluten free, dairy free, or with allergies we put tremendous effort into serving tasty meals for those on modified diets. There are always vegetarian, vegan, and milk substitutes available at meals, and we are a celiac-friendly camp. Furthermore, our directors and staff discuss these special needs with parents before and during camp and provide direction to our kitchen on a great selection of fresh and nutritious meals for all campers.
Please call our office to let us know if you have any food concerns as soon as possible so we can discuss them with you, help you feel comfortable with a plan, and prepare for a great and delicious summer experience.
We understand that nut allergies are a growing concern across America. To help protect the health of the campers and staff in our community, we are a completely nut free facility.
This policy means that no peanuts or tree nuts (including cashews, pecans, pistachios, walnuts, almonds, etc.) are allowed to enter our camp environment.
We will not serve items where a label indicates that a food item "may contain" peanuts or tree nuts. We do however use items that indicate it was "produced in a factory" or "may have been processed with" products that contain nuts.
We will do our absolute best to ensure that those allergic to peanuts & tree nuts will not come into contact with these foods at camp, but we cannot promise families that accidental contact may occur. We want to assure you that we will have taken precautions to prevent contact with these allergens, however nut products are not always obvious ingredients in foods, and many foods are not clearly labeled.
If your camper is attending camp this summer and has a peanut or tree nut allergy, please make sure to indicate it on the health history form located in your Camp in Touch account.
Part of coming to camp is trying new things and stepping outside your comfort zone. That goes for the rock wall, making new friends, and food as well! We encourage campers to always try new foods. That being said, we never want anyone to go hungry and we will do our best to accommodate campers with more specific palates. If your camper cannot find something to eat, they should approach their bunk counselors who will work with the food service staff to find an option for them.