We are a traditional day camp completely outside and unplugged from technology. Our program is designed to embrace each campers' creativity and differences to create an inclusive environment made for exploration and discovery.
Located on our 2,700-acre campus in Simi Valley, our campers get back to the basics of facilitated outdoor play. Our environment allows campers to reconnect with nature, get the activity their bodies need, and see their inner creativity spring to life untethered to devices or at-home comforts.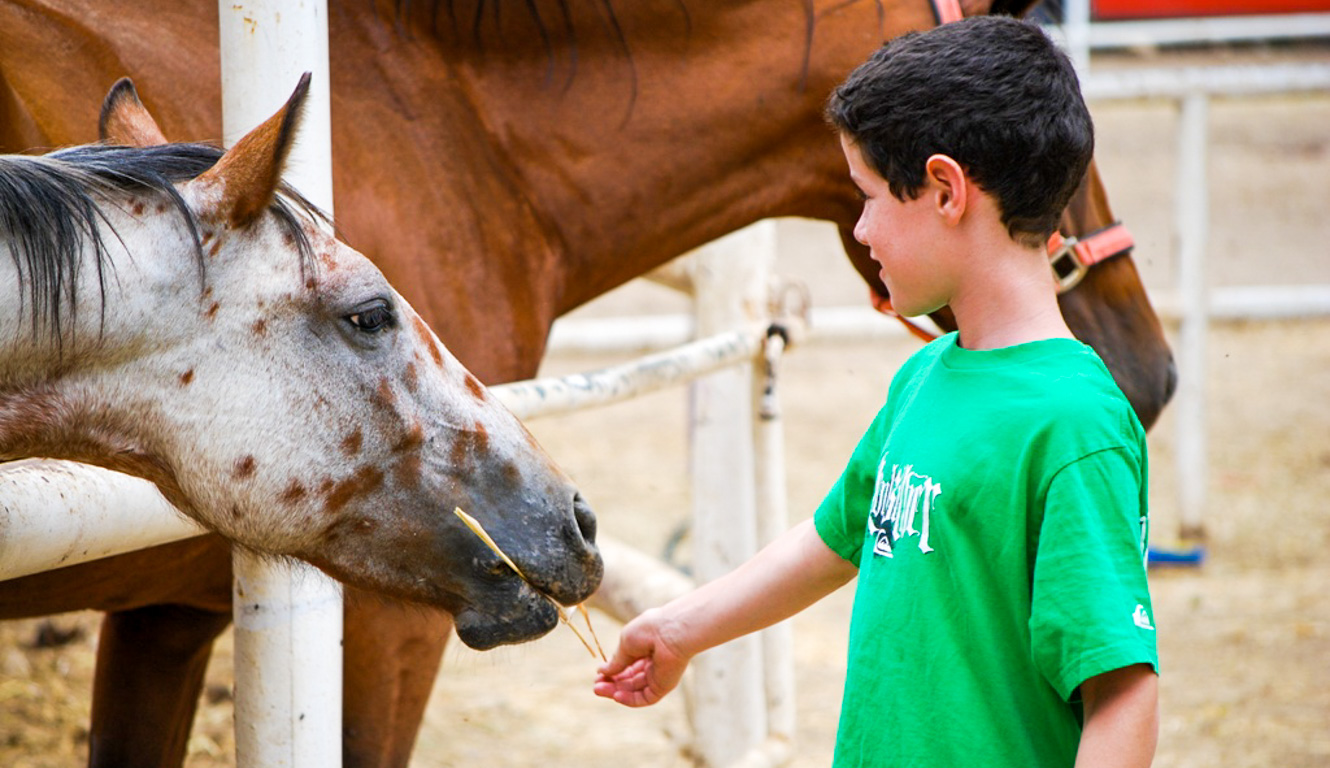 Activities
In everything we do, we emphasize having fun, building self-confidence, and developing friendships through teamwork … that's what camp is all about! Our small group sizes give each camper the opportunity to genuinely connect with and keep friends. Many relationships that start at camp last a lifetime! At each age level, the activities our campers engage in are geared towards their developmental interests and abilities.
By sending your child to Gan Alonim Day Camp, you are offering a summer full of experiences that provide memories that last a lifetime. The warm summer days at Gan are spent learning Israeli dances, going swimming, singing songs, creating art, riding horses, discovering nature and sometimes sitting on the grass eating popsicles with friends and counselors.
Day Camp Schedule
The Day Camp Schedule is subject to change
Nitzanim (Kindergarten)
Nitzanim (K)
Monday
Tuesday
Wednesday
Thursday
Friday
9:00-9:30
Opening Circle
Opening Circle
Opening Circle
Opening Circle
9:00-9:30
Opening Circle
9:35-10:20
Horses
Horses
9:35-10:05
Performing Arts
9:35-10:05
Performing Arts
9:35-10:05
Music/Cooking
10:25-10:35
Snack
Snack
10:10-10:20
Snack
10:10-10:20
Snack
10:10-10:35
Torah Talk
10:40-11:25
Teva
Teva
10:30-11:25
Ropes
10:30-11:25
Ropes
10:40-11:10
Snack/Shabbat
11:30-12:00
Art
Art
11:30-12:00
Group Theme Time
11:30-12:00
Group Theme Time
11:15-12:20
Swimming
12:05-12:35
Lunch
Lunch
Lunch
Lunch
12:25-12:50
Lunch
12:40-1:05
Group Theme Time
Group Theme Time
Music
Music
12:55-1:40
Art/Sports
1:10-1:45
Dance
Dance
Sports
Sports
1:45-2:25
Field Archery
1:50-2:55
Swimming
Swimming
Swimming
Swimming
2:30-3:00
Shabbat Circle/Popsicles
3:00-3:30
Snack/Closing Circle
Snack/Closing Circle
Snack/Closing Circle
Snack/Closing Circle
Closing
Giborim (First Grade)
Giborim (1)
Monday
Tuesday
Wednesday
Thursday
Friday
9:00-9:30
Opening Circle
Opening Circle
Opening Circle
Opening Circle
9:00-9:30
Opening Circle
9:35-10:20
9:35-10:05
Art
9:35-10:05
Art
Horses
Horses
9:35-10:05
Cooking/Music
10:25-10:35
10:10-10:20
Snack
10:10-10:20
Snack
Snack
Snack
10:10-10:35
Torah Talk
10:40-11:25
10:30-11:25
Ropes
10:30-11:25
Ropes
Teva
Teva
10:40-11:10
Snack/Shabbat
11:30-12:00
11:30-12:00
Group Theme Time
11:30-12:00
Group Theme Time
Music
Music
11:15-12:20
Swimming
12:05-12:35
Lunch
Lunch
Lunch
Lunch
12:25-12:50
Lunch
12:40-1:05
Performing Arts
Performing Arts
Group Theme Time
Group Theme Time
12:55-1:40
Field Archery
1:10-1:45
Sports
Sports
Dance
Dance
1:45-2:25
Sports/Art
1:50-2:55
Swimming
Swimming
Swimming
Swimming
2:30-3:00
Shabbat Circle/Popsicles
3:00-3:30
Snack/Closing Circle
Snack/Closing Circle
Snack/Closing Circle
Snack/Closing Circle
Closing
Arazim (Second Grade)
Arazim (2)
Monday
Tuesday
Wednesday
Thursday
Friday
9:00-9:30
Opening Circle
Opening Circle
Opening Circle
Opening Circle
9:00-9:30
Opening Circle
9:30-10:30
Swimming
Swimming
Swimming
Swimming
9:35-10:35
Swimming
10:35-10:45
Snack
Snack
Snack
Snack
10:40-11:10
Snack/Shabbat
10:50-11:25
Dance
Dance
Music
Music
11:15-11:50
Music
11:30-12:05
Sports
Sports
Art
Art
11:55-12:25
Lunch
12:10-12:40
Lunch
Lunch
Lunch
Lunch
12:30-12:55
Field Archery
________________
1:00-1:15
Torah Talk
12:45-1:30
12:45-1:15
Group Theme Time
12:45-1:15
Group Theme Time
Horses
Horses
1:20-2:00
Cooking
1:35-2:05
1:20-1:55
Photography
1:20-1:55
Photography
Teva
Teva
2:05-2:25
Performing Arts
2:10-2:55
2:00-2:55
Ropes
2:00-2:55
Ropes
Group Theme Time
Group Theme Time
2:30-3:00
Shabbat Circle/Popsicles
3:00-3:30
Snack/Closing Circle
Snack/Closing Circle
Snack/Closing Circle
Snack/Closing Circle
Closing
K'Firim (Third Grade)
K'Firim (3)
Monday
Tuesday
Wednesday
Thursday
Friday
9:00-9:30
Opening Circle
Opening Circle
Opening Circle
Opening Circle
9:00-9:30
Opening Circle
9:30-10:30
Swimming
Swimming
Swimming
Swimming
9:35-10:35
Swimming
10:35-10:45
Snack
Snack
Snack
Snack
10:40-11:10
Snack/Shabbat
10:50-11:25
Art
Art
Music
Music
11:15-11:50
Music
11:30-12:05
Group Theme Time
Group Theme Time
Dance
Dance
11:55-12:25
Lunch
12:10-12:40
Lunch
Lunch
Lunch
Lunch
12:30-12:55
Performing Arts
________________
1:00-1:15
Group Theme Time
12:45-1:30
Horses
Horses
Sports
Sports
1:20-2:00
Cooking
1:35-2:05
Field Archery
Field Archery
1:35-1:55
Group Theme Time
1:35-1:55
Group Theme Time
2:05-2:25
Torah Talk
2:10-2:55
Teva
Teva
2:00-2:55
Ropes
2:00-2:55
Ropes
2:30-3:00
Shabbat Circle/Popsicles
3:00-3:30
Snack/Closing Circle
Snack/Closing Circle
Snack/Closing Circle
Snack/Closing Circle
Closing
Doobim (Fourth Grade)
Doobim (4)
Monday
Tuesday
Wednesday
Thursday
Friday
9:00-9:30
Opening Circle
Opening Circle
Opening Circle
Opening Circle
9:00-9:30
Opening Circle
9:35-10:20
Horses
Horses
Archery
Archery
9:35-10:05
Torah Talk
10:25-10:35
Snack
Snack
Snack
Snack
10:10-10:35
Group Theme Time
10:40-11:20
Music
Music
Dance
Dance
10:40-11:10
Snach/Shabbat
11:25-12:25
Swimming
Swimming
Swimming
Swimming
11:15-12:00
Dance/Sports
12:30-1:05
Lunch
Lunch
Lunch
Lunch
12:05-12:35
Lunch
1:10-1:50
1:10-2:00
Ropes
1:10-2:00
Ropes
Photography
Photography
12:40-1:20
Cooking
1:55-2:25
2:10-2:25
Group Theme Time
2:10-2:25
Group Theme Time
Sports
Sports
1:25-2:25
Swimming
2:30-3:00
Art
Art
Teva
Teva
2:30-3:00
Shabbat Circle/Popsicles
3:00-3:30
Snack/Closing Circle
Snack/Closing Circle
Snack/Closing Circle
Snack/Closing Circle
Closing
Habonim (Fifth & Sixth Grade)
Habonim (5 & 6)
Monday
Tuesday
Wednesday
Thursday
Friday
9:00-9:30
Opening Circle
Opening Circle
Opening Circle
Opening Circle
9:00-9:30
Opening Circle
9:35-10:20
Archery
Archery
Horses
Horses
9:35-10:05
Torah Talk
10:25-10:35
Snack
Snack
Snack
Snack
10:10-10:35
Group Theme Time
10:40-11:20
Music
Music
Dance
Dance
10:40-11:10
Snach/Shabbat
11:25-12:25
Swimming
Swimming
Swimming
Swimming
11:15-12:00
Sports/Dance
12:30-1:05
Lunch
Lunch
Lunch
Lunch
12:05-12:35
Lunch
1:10-1:50
Teva
Teva
1:10-2:00
Ropes
1:10-2:00
Ropes
12:40-1:20
Cooking
1:55-2:25
Sports
Sports
2:10-2:25
Group Theme Time
2:10-2:25
Group Theme Time
1:25-2:25
Swimming
2:30-3:00
Group Theme Time
Group Theme Time
Art
Art
2:30-3:00
Shabbat Circle/Popsicles
3:00-3:30
Snack/Closing Circle
Snack/Closing Circle
Snack/Closing Circle
Snack/Closing Circle
Closing